Communities Comparisons Connections

The CCC is a partner of the Ghent Centre for Global Studies   
Latest NEWS
Our research group has merged with EED into the new research group Economies, Comparisons, Connections (ECC), for the latest information on the new research group please go to the research platform of the Faculty of Arts and Philosophy.
New publication
Las luchas sociales por la tierra en América Latina: Un análisis histórico, comparativo y global.
On June 24th and 25th, 2015, the CCC research group, as member of the Ghent Centre for Global Studies, co-organized an international conference on "Social Struggles for Land in Latin America: An Historical, Comparative and Global Perspective", together with the Universidad Nacional Mayor de San Marcos (Peru) and the Red Muqui – Proposal and Action Network (Peru), at the Universidad Nacional Mayor de San Marcos, in the city of Lima. The conference aimed to create a more profound dialogue between researchers, institutions, social organizations and rural communities, between historical and contemporary perspectives, and between comparative (cases of different countries) and global views, on change and continuity in rural Latin America.
The contributions to the conference are now brought together in a new publication, co-edited by the Ghent Centre for Global Studies:
Cottyn, Hanne, Jahncke, Javier, Montoya, Luis, Pérez, Ela, and Mattes Tempelmann (eds.). 2016. Las luchas sociales por la tierra en América Latina: Un análisis histórico, comparativo y global. Conference proceedings. Lima: Facultad de Ciencias Sociales, Universidad Nacional Mayor de San Marcos.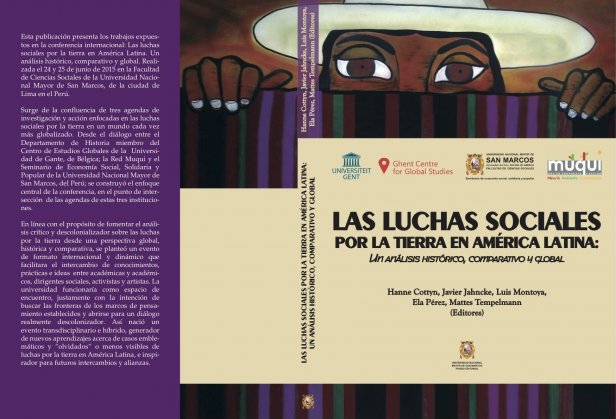 Upcoming events
June 30th - July 2nd, Ghent: Summer School: "Connectivity and Change: Regimes, Conflicts and Revolutions in Global Perspectives"
This summer, the GCGS and the CCC research group organize a summer school at Ghent University, in collaboration with the European Network of Universal and Global History, the International Research Center "Work and Human Lifecycle in Global History", the Graduate School 'Global and Area Studies', the University of Leipzig and Labex transferS in Paris.
About ten years ago historians began to open up to encounters across borders and entanglements between far-flung parts of the word. Now a lively research on transnational, transregional, world and global history topics exists, which is not only done by senior scholars but also by an ever increasing number of doctoral students. In that course connectivity has become a category for describing and explaining the past, of individual societies as well as of large-scale processes playing out at different places.
The European Network in Universal and Global History (ENIUGH) is happy to introduce - in addition to its regular congresses (the last in Paris in 2014, the coming in Budapest in 2017) - a summer school for PhD students and welcomes the opportunity to organize it together with well-known research institutes from across Europe and this time in conjunction with the meeting of the World History Association in Gent in early July 2016.
The deadline for applications is December 15, 2015.
Click here for more information.
July 2nd- 5th, Ghent: 25th Annual World History Association Conference
At the beginning of July, Ghent University is home to the 25th annual conference of the WHA. The WHA organizes its conference in association with the Ghent Centre for Global Studies and the CCC research group of the History Department of Ghent University.
The two theme's of this year are: "Global Conflict" and "Transformation of the Global Countryside".
Click here for more information.
Mission statement
The research group Communities Comparisons Connections brings together historians and social scientists who aim to study historical processes through the scope of a varying set of  spatial, social, religious and political geographies in comparative perspective. Our focus on Communities Comparisons and Connections is applied to a variety of research topics: case- and regional studies in comparative perspective; broader societal shifts with global ramifications; and various models of explanation for social change on a global and longue-durée scale. We pay attention to different units of analysis (societies, states, civilizations, networks, systems etc.) and to methods to investigate processes on a global scale (comparative analysis, system-analysis, network-analysis etc.)
CCC is a cross departmental research group, bringing together a varied group of scholars, focussing on a broad spectre of thematic, temporal and regional foci, ranging from the Middle-East, via Africa and Asia, to Europe and the Americas. During our monthly meetings we discuss our current affairs; new work of our colleagues; as well as new developments in the field.
Below you find an overview of the different points of particular interest within the research group. On the left you can find our activities, publications,  links, contact information, and an outline of the educational programmes in which we offer our insights.
Click here for the research report 2011(with history, objectives, research output etc)

Research foci

World history
World studies and world-systems analysis
Globalization
Migration history
Transnational history
Translocal history
 Research areas

CCC research areas weergeven op een grotere kaart
Regional foci
Central Africa
West Africa
North America
Andes region
East Asia
Northern Europe
Middle East
India