Activities

The main activity of the CCC consists of monthly meetings that serve as a forum for members and invitees to share and discuss research findings and new developments in the field. Every meeting is centered on one or two presentation of research proposals, ongoing projects, working papers, published books or articles. Next to its monthly research seminars, the Research Group regularly invites speakers to discuss the CCC perspective in relation to their own field of interest. Below you find a list of past and scheduled meetings. If you wish to join the meetings, be informed of upcoming events or want to give a presentation, please contact alexander.jocque@UGent.be. Meetings always take place at 14h in the UFO (Sint-Pietersnieuwstraat 35) 1st floor, room 110.003.
Upcoming CCC activities
2015-2016
November 19th, 2015:
CCC meeting - Tobit Vandamme & Geert Castryck will present their research.

Past CCC activities
2015-2016
October 29, 2015, Ghent: Research Day of the Ghent Centre for Global Studies
The GCGS organized a research day with four workshops (two parallel sessions in the morning and two in the afternoon). The topics were the following:
1) Rethinking trade: markets, rights and values
2) Migration and the dynamics of in- and exclusion: connecting research on macro-, meso-, and micro-levels
3) Beyond transfer: new concepts and approaches
4) The colonial present: unsettling global epistemologies and methodologies
Edmé Dominguez of the University of Gothenburg was the key note speaker. She gave a lecture, titled: 'Gendering globalisation: processes and resistances. Some examples from Latin America regarding trade, labour and migration.'
2014-2015
June 24-25 2015, Lima: Interdisciplinary conference, titled Social Struggles for Land in Latin America.
On June 24 and 25, 2015, the CCC Research Group of the Ghent Centre for Global Studies held a succesful interdisciplinary conference, bringing together academic researchers and social and indigenous organizations, in Lima (Peru), co-organized by the Universidad Nacional Mayor de San Marcos and the Red Muqui–Proposal and Action Network.
Watch the summary of the conference:
March 18 2015:
CCC meeting - article presentation by Bas De Roo, titled "A new perspective on colonial extraction in the Congo Free State (1885-1908)", and presentation by Michael Limberger on the course outline of Mondial Processes in Historical Perspective.
January 21 2015:
CCC meeting - presentation of the preliminary results of the PhD research by Martin Jorgensen and presentation of the post-doc proposal by Jozefien De Bock.
December 10 2014:
CCC meeting - lecture by Joris Mercelis, titled "Public Knowledge and Private Enterprise: Openness and Intellectual Property in Photographic Technology from Daguerre to Eastman Kodak".
November 19 2014:
CCC meeting - presentation by Trisha Rose Jacobs on her ongoing PhD research, titled "Locating the "Nation" in the Works of Menasseh Ben Israel: The Presence of Jews, an Absence of Cannibals and the Naturalization of Difference"
October 24 2014:
Research Day, organized by the Ghent Centre of Global Studies, in which the CCC is involved
2013-2014
June 16 2014:
CCC meeting - book presentations by Per Kristian Sebak and Torsten Feys, and by Malika Dekkiche
(this was the last CCC meeting of the academic year 2013-2014)
April 30 2014:
CCC meeting - research presentation by Tine Vekemans and Lindsay Jacobs
March 19th 2014:
CCC meeting - guest lecture by Maaike van Berkel
March 10th 2014:
Doctoral school - guest lecture by Peer Vries
February 19th 2014:
CCC meeting - research presentation by Pieter De Reu and Bas De Roo
January 29th 2014:
CCC meeting - research presentation by Martin Ottovay Jørgensen
December 18th 2013:
CCC meeting - presentation by Robrecht Declercq, Joris Mercelis and Torsten Feys on their ongoing research
November 20th 2013:
CCC meeting - presentation (by Jo Van Steenbergen) and discussion of this years theme: state-formation
October 28th 2013:
Launch of the Global Studies Center, with guest speakers Peter Taylor, Matthias Middell and Heather Widdows
October 16th 2013:
The CCC held its first meeting of the new Academic Year. Guest speaker for the occasion were Marta Garcia Garralón and Ana Rivera, who talked about their research group, which is about the Governance of Atlantic Ports from the 14th Century onwards.
2012-2013

September 6th-7th 2013
Workshop "Frontiers and Borders in Global and Transnational History", organized by the CCC research group and Posthumus. Prof. Dr. Thomas Hall was the key-note speaker.
June 12th 2013:
Research presentation by Gillian Mathys: "Borderland(s) in motion. Borders, mobility and history in the Lake Kivu region ca. 1880-1962"
January 16th 2013
Research presentation by Eric Vanhaute, Jang Wang and Xiao Yu: "land tenure systems in China and Europe", followed by the presentation of a postdoc research proposal by Joris Mercelis
December 19th 2012
Presentation PhD research proposal Wim De Winter "Gift-exchange in Japan & India as cultural interaction in the Indian Ocean World, 1650-1750. A comparative research agenda", followed by the presentation of postdoc research proposal by Wouter Ronsijn "Actors and institutions of the global grain trade: the transformation of the grain markets in the North Sea Area and its impact on grain distribution in Belgium, 1820-1913."
November 21th 2012
Organizational meeting & presentation research proposal by Angelo Tino
October 24th 2012
Lecture by Olumide Abimbola: "Frontiers and borders in the West African second hand clothing market"
September 20th 2012
Opening meeting and lecture Robert Ross "The Kat River Settlement as the centre of the world"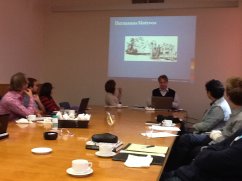 2011-2012
June 13th 2012
Research Presentation by Xiao Yu (Joint PhD with Peking University) and Martin Ottovay Jørgensen (joint PhD with Aalborg University)

Mai 16th 2012
Research presentation by Robrecht Declerq "The World of Furs. The political economy of knowledge and resources in London and Leipzig (1880-1950)"

April 18th 2012
Research presentation by Gillian Mathys "Borderland(s) in Motion. Borders, Mobility and History in the Lake Kivu region (circa 1880-1960)"

March 14th 2012
Research presentation by Angela Schottenhammer

February 15th 2012
Lecture by Johan Lagae

January 18th 2012
Research presentation by Patrick Wing: "Mamluk Political Change and Indian Ocean Trade in the Fifteenth Century"

December 14th 2011
Lecture by Miles Larmer: "Local Identities and Transnational Conflict: the Katangese Gendarmes and Central-Southern Africa's Forty-years war, 1960-1999", followed by a research presentation by Yang Wang

November 16th 2011
Research presentation by Hilmi Kaçar and Torsten Feys

October 12th 2011
Research presentation by Inge Brinkman: "Mobile Africa Revisited. A comparative study of the relationship between new communication technologies and social spaces (Chad, Mali, Cameroon, Angola, Sudan and Senegal)"

September 28th 2011
Opening meeting and research presentation by Hanne Cottyn "Carangas on the move: Indigenous pastoralist communities of the Bolivian highlands in the age of liberal breakthrough (1860-1930) "


2010-2011

June 14th 2011
Lecture by Bin Wong (UCLA Center for Chinese Studies) "Before and Beyond Divergence: The Politics of Economic Change in China and Europe".

June 8th 2011
Presentation ongoing research by Jeroen Vanwymeersch, "Innovation (bid'a), apostasion (irtidad) en blasphemy (sabb) according to Ibn Taymiyya (1263-1328): a diachronic study of an influential Islamic doctrine".

June 1st 2011
Lecture by Rande Kostal (The University of Western Ontario) "The Legal Reconstruction of Germany and Japan, 1945-1948: Some questions and hypotheses".


May 11th 2011
Bas De Roo PhD project presentation "French taxation in colonial Togo and its legacy: on the interrelation between state policy and economic structures" followed by a lecture by Dmitri van den Bersselaar "Why can't I go on transfer?' Career geographies of Africans employed in European business"?"

March 16th 2011
Lecture by Albrecht Fuess "The Clash of Muslim Empires. Ottomans, Safavids, and Mamluks in the Sixteenth Century."

Febraury 9th 2011
Eva De Clerq, presentation ongoing research

January 12th 2011
Eric Vanhaute, Hanne Cottyn and Yang Wang, project presentation "The end of peasant societies in an historical and comparative perspective", Cristóbal Kay will join the CCC for the discussion of this project

December 15th 2010
Future project presentation, followed by a lecture by Michael Zeuske (University of Cologne), author of "Globalgeschichte der Sklaverei. Menschen als Ware gestern und heute" (Rotpunktverlag, Zürich 2010).

November 17th 2010
Lecture by Lewis Pyenson "Two Incarnations of Athena: Scientists in the Service of Lebensraum during the Nineteenth Century in the United States, Argentina, and Russia", followed by Gillian Mathys, Phd project presentation "There was no border during that time". Mobility and borders in the Lake-Kivu Region (1890-1960)

October 13th 2010
Discussion of M. Leezenberg, "Een nieuwe wetenschap of een nieuw publiek? Kentheoretische kanttekeningen bij Ibn Khaldûn", in M. van Berkel & R. Künzel, Ibn Khaldûn en zijn wereld, Amsterdam 2008.

September 15th 2010
At the start of the academic year 2010-2011, the Research Group kicks of with a collective discussion, introduced by Michael Limberger, of Fernand Braudel's 1958 foundational article on "Histoire et Sciences sociales : La longue durée". The article can be accessed here on the UGent network.

2009-2010

June 16th, 2010
CCC, one year in the making: evaluation of activities past and future.

May 28th, 2010
Joris Mercelis, American Plastic in Europe? Leo Baekeland's Transatlantic Strategy for Bakelite (Ph.D. project, joint organisation with Research Group Social History)

May 19th, 2010
Hanne Cottyn, Andean trajectories at the crossroad of mining and rural livelihoods. The competition over land and natural resources on the Bolivian highlands: connecting local livelihood strategies to world historical processes (Carangas and Poopó, 1880-1930) (Ph.D. project).
April 21st, 2010
Brecht De Smet, PhD project presentation
Ghislaine Lydon (UCLA), Book Presentation On Trans-Saharan Trails: Islamic Law, Trade Networks, and Cross-Cultural Exchange in Nineteenth-Century Western Africa (Cambridge: Cambridge University Press 2008)
March 3rd, 2010
Jo Van Steenbergen, The 'Mamlukisation' of the Mamluk Sultanate. Political Traditions and State Formation in 15th century Egypt and Syria (ERC Research project)
February 3rd, 2010
Frank Caestecker, Book Presenation: Refugees from Nazi-Germany and the liberal European states, 1933-1939 (Oxford-New York: Berghahn Books 2010)
Janurary 6th, 2010
Torsten Feys, From Gate Crashers to Gate Keepers: the rise of clandestine migration networks in Mediterranean Europe during the 20th Century (research proposal)
November 25th, 2009
Gillian Mathys, Borderland(s) in motion. Mobility, labour and borders in the Lake Kivu region during the colonial period (PhD project)

October 28th, 2009
Myriam Mertens, Locating medical knowledge production about Congo: the case of TRYPANOSOMIASIS research (1900-1940) (PhD project)

September 30th, 2009
Petra Vervust, Behind and beyond the labels: rehistoricizing the master narrative of ethnicity in Rwanda during the colonial period (PhD project)

August 24th, 2009
Jan-Frederik Abbeloos, The copper commodity chain (PhD project)
Eric Vanhaute, Who is afraid of global history? (article)

June 29th, 2009
Baz Lecocq, Tuareg City Blues – Cultural Capital in a Global Cosmopole (article)
Jan-Frederik Abbeloos, Le Grand Détour de Force: the Globalization Hype (1989‐2009) (working paper)


Some Past CCC Talks
Ghislaine Lydon: "On Trans-Saharan Trails: Islamic Law, Trade Networks and Cross-Cultural Exchange in Nineteenth-Century Western Africa."
Ha-Joon Chang: "Bad Samaritans: Rich Nations, Poor Policies and the Threat to the Developping World."
Patrick O'Brien: "The Heuristic Qualities and Defciencies of World Systems Theory for Students of Global Economic History."
József Böröcz: "The 'Rise of Asia, Global Inequality, and the New Challenges to Global Relations."
Peter Taylor: "World-systems Analysis and Globalization."
Etienne Balibar: "Un nouvel antisémitisme".
Immanuel Wallerstein: "The Itinerary of World-Systems Analysis, or How to Resist Becoming a Theory."
Samir Amin: "Mondialisation et la construction européenne."
Giovanni Arrighi: "Hegemonic transitions: Past and Present."
Gilbert Achcar: "U.S. Imperial Globalisation: The 'Unipolar Moment."